Bulmor produces sideloaders, multidirectional sideloaders, and picking systems for timber wholesalers, sawmills, wood processing companies, kitchen manufacturers, prefabricated house builders and many more applications.
Our lift trucks, specially produced on customer request, are ideal for the economical and safe transport of chipboard, decor, laminated beams and also construction and sawn timber as well as kitchen worktops or window profiles.
Bulmor Sideloaders in use in the timber industry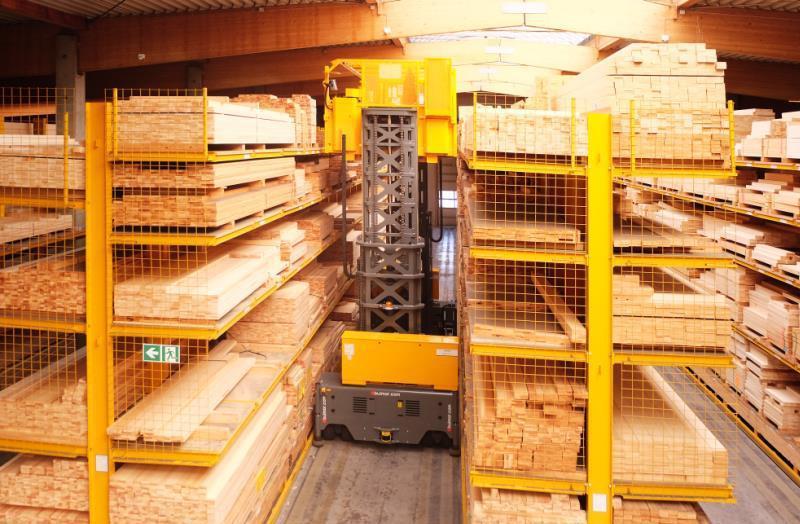 Bulmor`s complete solution ensures order picking in one operation.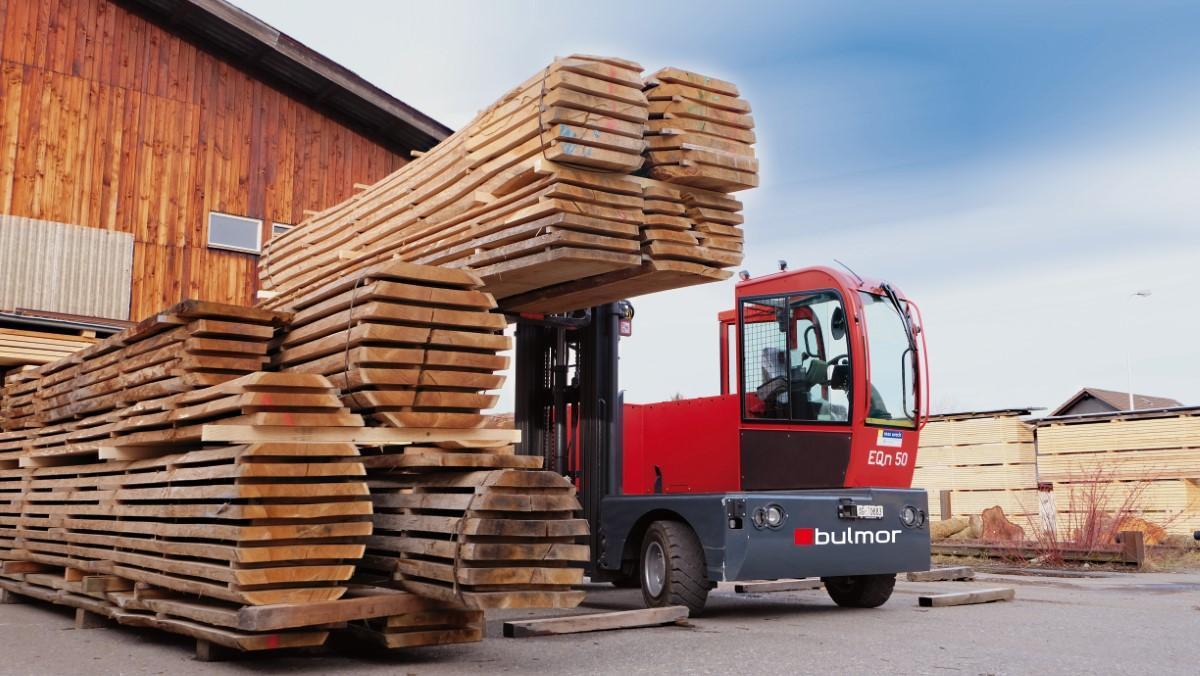 Electric sideloaders last a full 8-hour shift
Sideloaders lift loads up to 30 m long
Bulmor electric sideloaders – for economical use both indoors and outdoors
Bulmor electric sideloaders: environmentally friendly and quiet intralogistics
A Bulmor sideloader in the old jumbo design
The robust jumbo sideloader has been marketed under the Bulmor brand since 2011
Sideloader with the old Jumbo design at work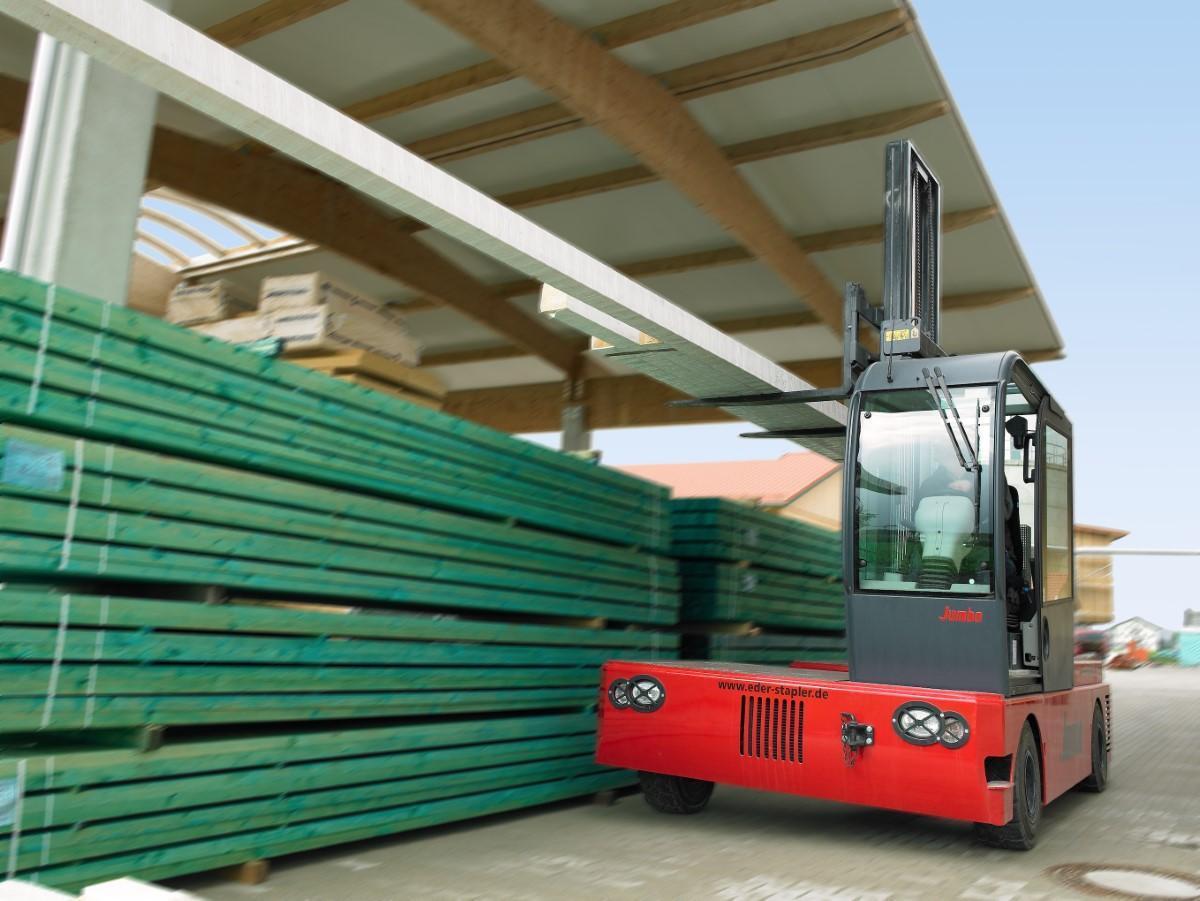 Our indestructible Jumbo sideloader has been built in the Bulmor design since 2011
Sideloader for safe handling of long and heavy goods
A multidirectional sideloader safely and conveniently lifts even the heaviest loads in high-bay warehouses
The Bulmor sideloader has proven its resilience in heavy-duty use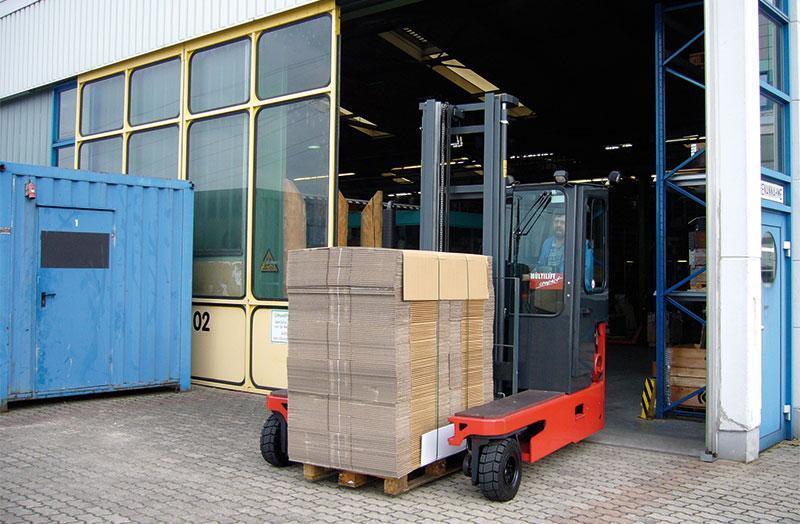 Multidirectional sideloaders for economical block storage
Due to their manoeuvrability, four-way sideloaders are increasingly being used in the timber industry
The compact and cost-effective Bulmor sideloader effortlessly lifts loads of up to 5 tons
Multidirectional sideloaders designed for the tightest storage spaces
A four-way sideloader can lift up to 12 tons
Wallner in Austria: Timber and board transport in narrow warehouses
Bulmor Multiway Sidelaoder – of course electric – for economical use indoors. Due to its enormous maneuverability, it is ideally suited for space-saving block storage.
Easy loading in tight spaces with the multidirectional sideloader
The EMS with a lifting capacity of 5 tons is particularly suitable for transporting long goods in the timer industry.
RWD Schlatter in Germany: Warehouse optimisation with multidirectional sideloaders
Our four-way sideloaders are designed and produced according to customer requirements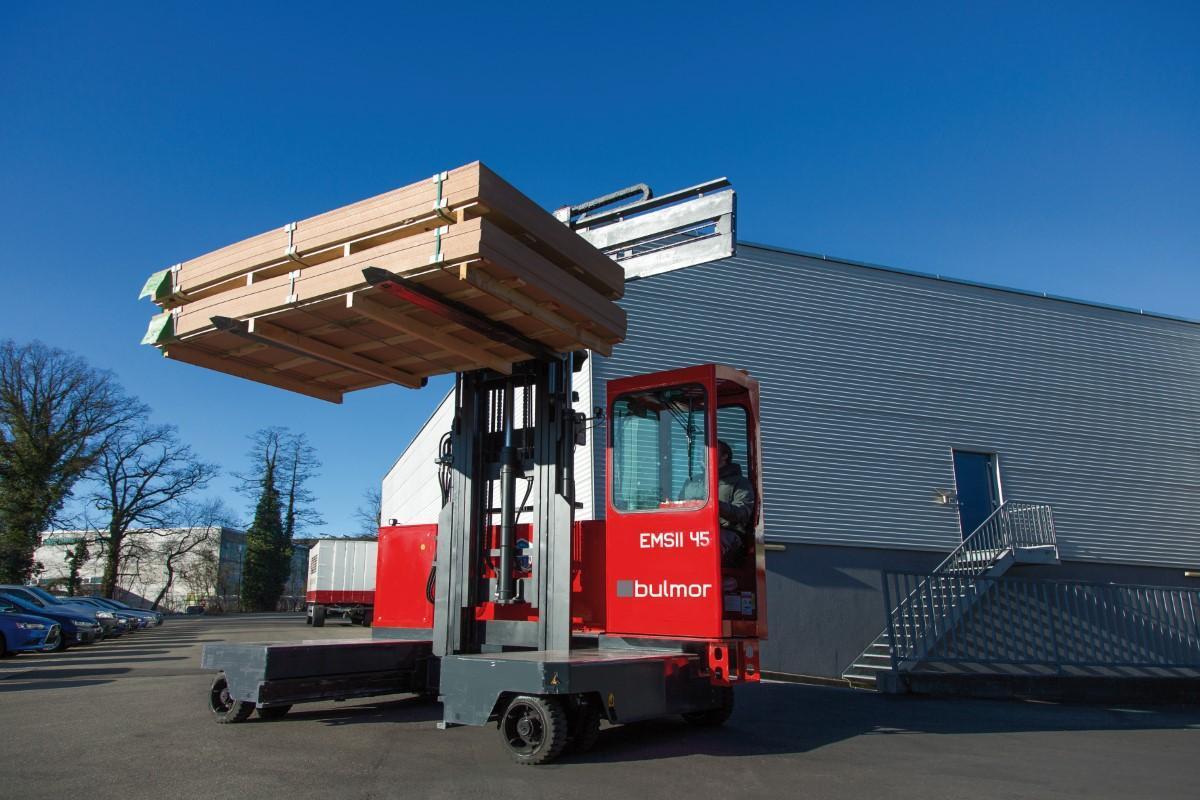 Four-way sideloaders optimise your storage space
When changing the warehousing to block storage, a whole warehouse width is gained.
Transport heavy loads with the agile Heavy Line Sideloader
Sideloader Heavy Line DQs120: 52 cm shorter than our serial model to be manoeuvrabel in the high-bay warehouse
The DQs 120 is in use over several shifts per day and transports up to 12 tons of cargo in one trip.
The short DQs 120 is used for loading and unloading the truck and for storing in the high-bay warehouse.